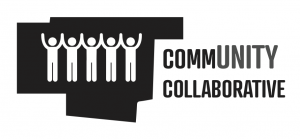 "…making Marion a better place to live, work, and learn."
Wouldn't it be nice if all the organizations in Marion would just work together? This is a phrase I've heard a number of times and even uttered myself in the past couple of years that I've served as executive director at Love INC. As we've met with leaders of other organizations, agencies, ministries, and other grassroots efforts in Marion, the thought has been echoed throughout our conversations.
We are happy to announce that the Marion community IS working toward solving that concern! Love INC is now co-hosting monthly meetings for a newly formed group called the CommUNITY Collaborative. This group is open to the public for anyone that is interested in working with others to improve communication, educate one another on details of our organizations' services and upcoming events, and to collaborate on addressing concerns within our community. We will work together on community-wide projects. One of our early projects included establishing a single Marion County resource directory instead of each organization creating their own and expending their own manhours to keep them updated. We also helped to coordinate county-wide family adoptions for holiday meals and gifts to avoid duplication and abuse of the programs.
Our meetings are currently held at the Lee Street Presbyterian Church (455 Lee Street in Marion) on the 2nd Tuesday of each month. We invite you to join us at 11:45am for prayer for our community and the CommUNITY Collaborative meeting will follow from 12:00-1:00pm. These are informal meetings and we realize lunch is an important part of the day. Feel free to bring your lunch with you and prepare to meet some new faces as we network together to make Marion even better!
We share community resources and flyers online. Connect with us over on Facebook at:
We hope to see you soon!