What We Do
The Love
In

the

N

ame of

C

hrist model has three levels.

Each level goes deeper in fulfilling Love INC's mission to provide opportunities for the church to transform lives and communities in the Name of Christ.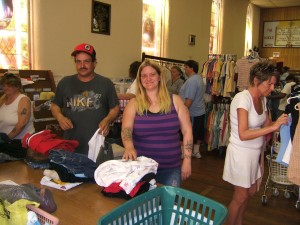 LEVEL ONE: Clearinghouse
The Clearinghouse is the foundation of Love INC. Love INC screens requests for help for extent of need and legitimacy and refers the request to a local church ministry, church volunteer, or community agency. Love INC follows up to ensure the need was met and to offer spiritual support.
LEVEL TWO: Gap Ministry
Gap Ministries are ministries that meet needs in the community that are not currently or sufficiently being met by agencies, the government or churches. Needs are discovered and identified through calls to the Clearinghouse and relationships with agencies and other non-profit organizations. Gap Ministries are staffed by volunteers. Love INC coordinates and encourages churches to participate either by forming a team and providing the needed service or product or by collecting products for another church's ministry.
LEVEL THREE: Transformational Ministry
The Transformational Ministries through Love INC combine education, accountability, and relationships in order to provide opportunities for people to free themselves from their financial burden.